Thx to Almost Real Things for the kind words and feature -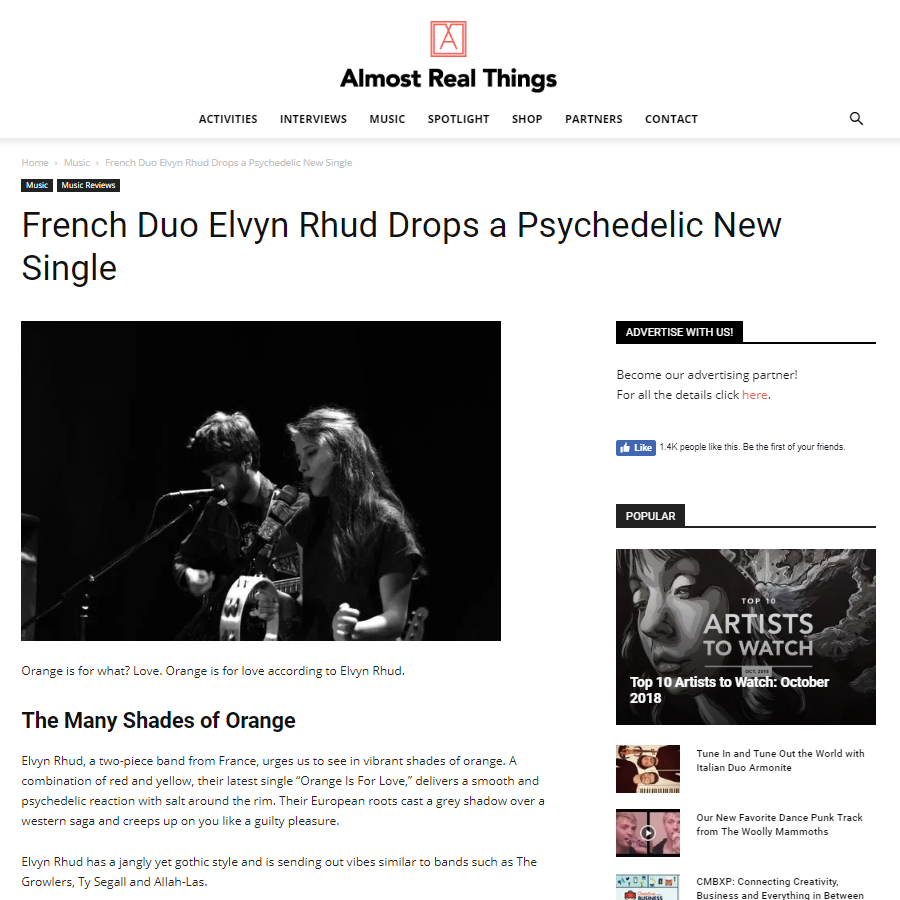 The Many Shades of Orange 
Elvyn Rhud, a two-piece band from France, urges us to see in vibrant shades of orange. A combination of red and yellow, their latest single "Orange Is For Love," delivers a smooth and psychedelic reaction with salt around the rim. Their European roots cast a grey shadow over a western saga and creeps up on you like a guilty pleasure. 
Elvyn Rhud has a jangly yet gothic style and is sending out vibes similar to bands such as The Growlers, Ty Segall and Allah-Las.
A Smooth & Psychedelic Classic 
There is no doubt, "Orange Is For Love" has a way of creeping up on you. 
As if the room were silent, the song sneaks in with a subtle fuzz and slowly grows higher with a rickety guitar and tambourine melody. Imagine driving late at night, the windows are rolled down and the warm breeze is blowing past your ears. You're driving up a mountain for hours, minute after minute, curve after curve, it feels never-ending —That is where this song is sending it's listeners. 
The vocals are deep with a dark shoe-gaze appeal. Tasteful and effective, the instrumentals and vocals blend together for a soothing two minutes and forty-six seconds.
A song that is too easy to play on a loop, "Orange Is For Love" will turn itself into a keepsake. It's here to stay and to be paired with your memories and your secrets. 
Elvyn Rhud has a lovely darkness to their vintage aesthetic and has created a song to be held onto. Ease into the day and doze off into the night with this poetic western masterpiece.