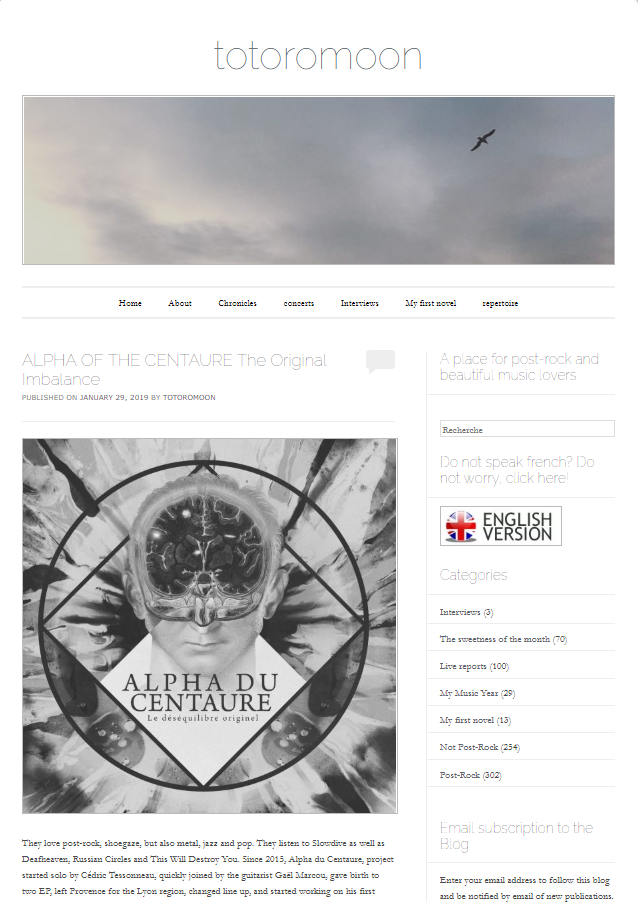 They love post-rock, shoegaze, but also metal, jazz and pop. They listen to Slowdive as well as Deafheaven, Russian Circles and This Will Destroy You. Since 2015, Alpha du Centaure, project started solo by Cédric Tessonneau, quickly joined by the guitarist Gaël Marcou, gave birth to two EP, left Provence for the Lyon region, changed line up, and started working on his first album. "The Original Imbalance" is the band's second album, and it's a delicious little record to discover. 
It is in the form of a quartet that Alpha Centauri recorded this EP. Two guitars, a drums, a bass and a Moog to create atmospheres inspired by distant territories with vast expanses. 
Along its four tracks, after a pretty energetic opening, the disc oscillates from melancholy to light. The guitars show their melodies patiently, carried by rhythms with tasty variations. The sounds are ethereal as landscapes that the group, fascinated by the heavenly nature, wants to paint. And he does it with a certain talent, in a careful harmony of sounds, colors and emotions. 
REPORT THIS AD 
"The Original Imbalance" is available since last November in CD and digital formats. Alpha du Centaure also participated in a split singles with the group Elvyn Rhud, which features his piece Le mouvement perpétuel , available via Pyrrhic Victory Recordings.