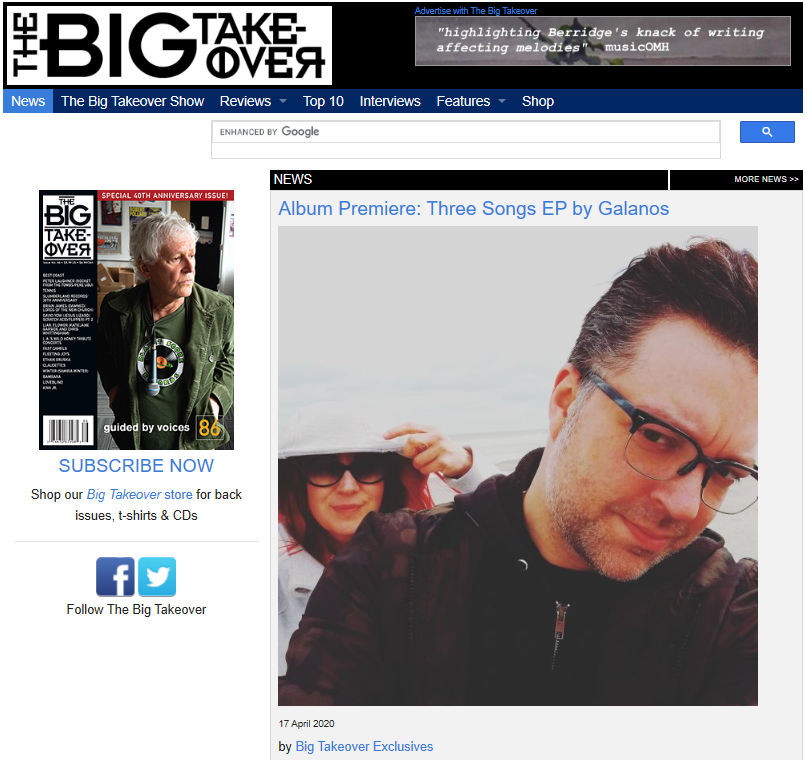 Kingston, New York-based art rock/postpunk band Galanos return with three songs about death, figurative) wolves, and work on their new Three Songs EP, which releases soon via Pyrrhic Victory Recordings and Mint 400 Records. 
The members of Galanos (Netochka Nezvanova (vocals), Gregory D. Jaw (guitar, vocals), Joe Pugsley (bass, vocals), and John Steele (drums)) don't so much celebrate the darker things in life as they embrace the darkness life has to offer. 
Big Takeover is pleased to host the premiere of the whole EP today. Galanos create a noir and gritty sound that is both urban in nature and a call of the wild. Taking their name from a combination of literary references and Spanish that when combined roughly translates to "silver tongued devils," Galanos music is darkly seductive and coldly aloof at the same time. 
Their debut 7" La Loca is steeped in the solo sounds of Stiv Bators and early Lords of the New Church, the cinematic expanses of Ennio Morricone, and relentless fuzz drone of surf guitars. 
Galanos came together in 2013, after singer/songwriter Jaw (The Brides, Thee Hallowteens) completed a set of sea-soaked songs in his basement studio fueled by a need for reinvention and catharsis. His lyrics deal with loss and madness; a darkness of the heart. 
Since that time Pugsley and Steele (both from NJ bands The 65's and VOD), along with Nezvanova joined in. Following the release of their debut 7", Galanos released their well received full-length Vacation Cannons in 2015 and acclaimed second full-length Deceiver Receiver in 2017. Big Takeover premiered the video for "Loneliest of Men" off the album. 
Potent EP-opener "Take It All Away" drives on by with a devil-may-care strut and thick blasts of guitar distortion. It's intense and emotive, with the vocals and instrumentation exuding the go-for-broke attitude of someone pushed to the brink. 
"The Death of a Wolf" stalks menacingly with sharp guitar grind, supple bass line, and a shaking drum pace. The vocals are deep, but edged with a dreamier croon. A winding note extends through part of the song before breaking off into more melodic guitar jags. 
The restless "Death Song" is a stream-of-conscious narrative with cycling, Beat poet-styled sing-talking vocals, wiry guitar angles, a plunging bass line, and lively drum and cymbals clatter. Stabbing organ notes infiltrate at the end, pushing the song to its urgent conclusion. 
The band confide, "More material in the works as the music must be made to combat the horrors of modern civilization. The valley of death is open for business, ennui has set in, and all that is left is the song. I'm in a box, in a car, it's so cold…"