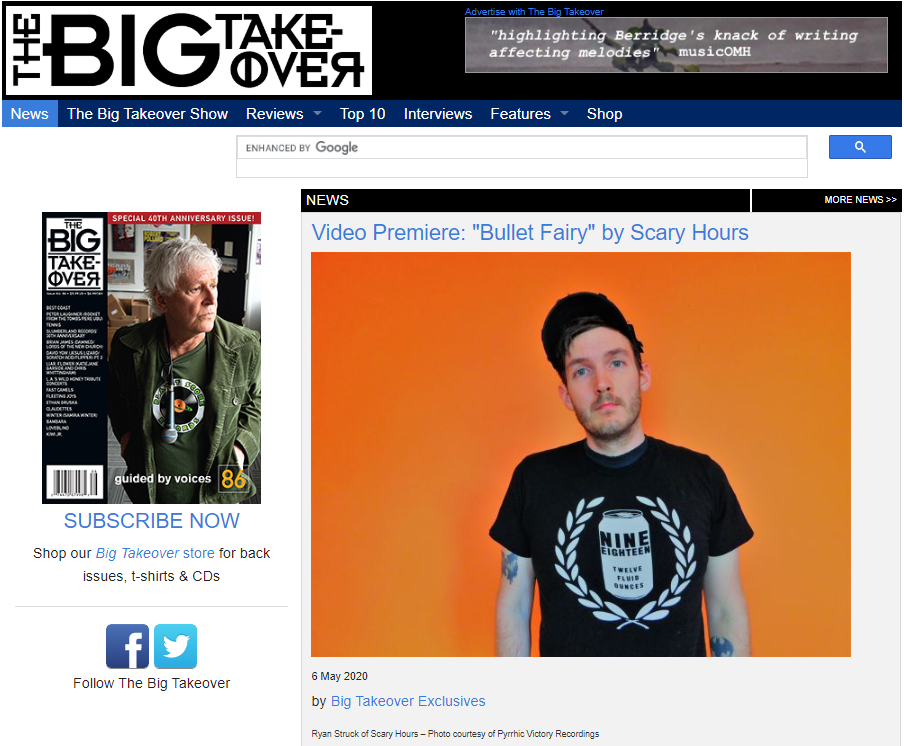 Northern New Jersey-based anti-folk singer-songwriter/multi-instrumentalist Ryan Struck has returned to his punk/hardcore roots with his ongoing music project Scary Hours. It's a timely move that was precipitated by unsettling cultural/global events, from the proliferation of gun violence, rampant police brutality, and the virus pandemic. 
No acoustic guitar is in sight these days as Struck watches the world around him burn… His new music reflects his gut reaction to it all. Struck has been playing in punk and hardcore bands from his teenage years on up, and he's attuned to delivering meaningful lyrics in a form that also packs a powerful sonic punch. 
Scary Hours found its home with New Jersey label Pyrrhic Victory Recordings, who specialize in intense and relevant music. The track "Live to Serve/Serve to Live" was released with a warm critical response, making our own Jack Rabid's "Best of 2018" list. 
Struck and the Pyrrhic Victory team worked on and released Scary Hours' first full-length record, Live to Serve in May last year. The album includes a new version of the original single/title-track and boasts 9 other tracks of punk-spirited acoustic pop. 
Big Takeover is stoked to host the premiere of the incendiary and socio-politically on-target "Bullet Fairy," which rails against unchecked police brutality, especially against minorities. 
As Struck posts below the video, he's not anti-cop, but anti-bad cop; a distinction that many don't see when activists and others criticize the excessive use of force by the police. 
In the video Struck unleashes a passionate performance of the song amid hair-raising real footage of police, and protester, violence that rocks the senses. There's a fine line between control and chaos, and unfortunately that balance is easy to topple… 
Struck gives some insight into the backstory of the song and video, commenting, "I am having a harder and harder time living with myself when I know my well-being relies on participation in a system that makes jobs out of the systematic oppression of blacks, minorities, women, and the poor and uneducated. I wanted to drop the acoustic guitar and scream over pretty melodies, simple chords, and a driving, steady beat to demonstrate the kind of dissonance the lyrics convey."
LYRICS: 
It's getting harder to be the person I've been 
Imitative reality, and counterfeit opportunity 
When they flooded the streets with fucking drugs and police 
It was a propaganda party for the G.O.P. 
Another casing for the Bullet Fairy 
Another blanket for the cemetery 
The truth isn't always what you want it to be 
And the way that I've been living ain't the way I believe 
The cognitive dissonance, eliminating innocence, the cognitive dissonance 
Police afraid of politics 
Exhibition in their dominance 
It's just another day, so punch the clock 
It's just another body outlined in chalk 
Don't like the world that I see 
I shove my face in the screen 
Ignore the sickness in my gut as a scroll through my feed 
We load each clip with compliance 
We pierce the flesh with our silence