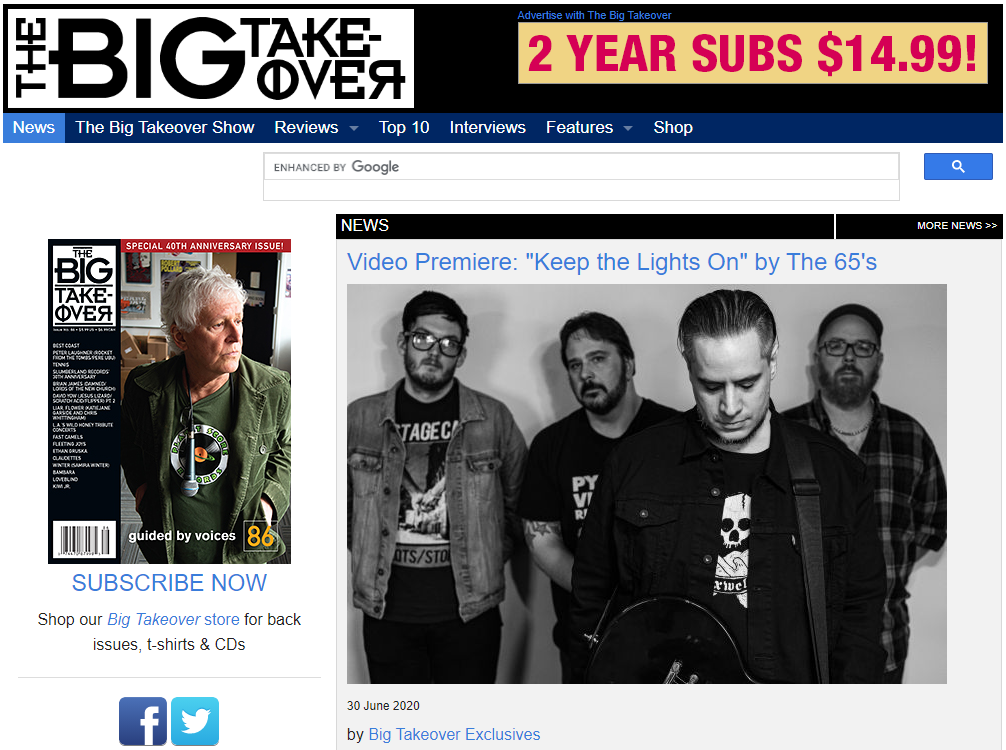 North Jersey-based quartet The 65's have always embraced their high-stress, chaotic environment, allowing the steam of the concrete jungle to inform their aggressive blend of punk-influenced rock and power-pop. Theirs is a lean, mean sound that exudes integrity, sitting somewhere between the Replacements and New York Dolls 
Comprised of Joe Pugsley (guitar, vocals), John Steele (drums), Ryan Struck of Scary Hours (bass, backing vocals), and Ed Roessler (guitar), the band, which started around 2009, has set a relentless pace of playing shows over the past decade, canvassing the Tri-State area. 
Their output of material has been just as steady. From 2013 to 2017, with the release 3 EPs, along with a myriad of split releases and collaborations, mainly via the label Pyrrhic Victory Recordings. 
Their new 3 song EP, Never Say Never, was released in February of this year and pushes their sound to new heights, while cementing their reputation as a fiercely independent, working-class band. 
Recently, The 65's returned once again with a brand new single, "Keep the Lights On." With the world in utter chaos, the band had one of those moments when a song came together so quickly and easily, and with the content feeling relevant in its own way, the band decided to release it as a single and continue their plans for an EP or full length next year. 
Big Takeover is stoked to host the premiere of the moodily atmospheric video for the vivid and driving "Keep the Lights On." The clip was filmed in saturated black, white, and shades of gray, in keeping with images of overcast skies, rain on the windowpane, and the disappointment and longing of the young woman in the video who stares out at a stark cityscape. 
Interspersed throughout is band performance footage, with Puglsey passionately exclaiming the song's potent lyrics and brief views of the instruments being played. 
Puglesy spills some details about the track and video, revealing, "This song is structured around the idea of the loss of someone in your life (or the fear of such a loss), that you have a mutual love and respect for; but often struggle to find ways to sustain the relationship; the disappointment you both feel in each other for not being able to just fix it somehow, the blame, and the fear of total loss of the other." 
"The video portrays this loss in the context of a male/female relationship, but the song is more broadly about loss and disappointment, that feeling of helplessness that rips your gut. It could be associated with a lover, a friend, a relative, even a co-worker or an associate of some kind – obviously these would all have different levels of pain associated with it, but we wanted to brood in that feeling of loss and being unexpectedly let down that is simply brutal, and something I think we have all experienced and can relate to." 
"I feel we captured that pain well with this song and video (directed and edited by Neil Sabatino of Mint 400 Records). This song brought me a catharsis that has helped me immensely get past some things. It's a reminder that we all have the power to purge and move on if necessary, but that it also just might be worth fighting for the right people. Sometimes the answers are in the pain."