Thx to Big Takeover for premiering the new Hidden Cabins EP -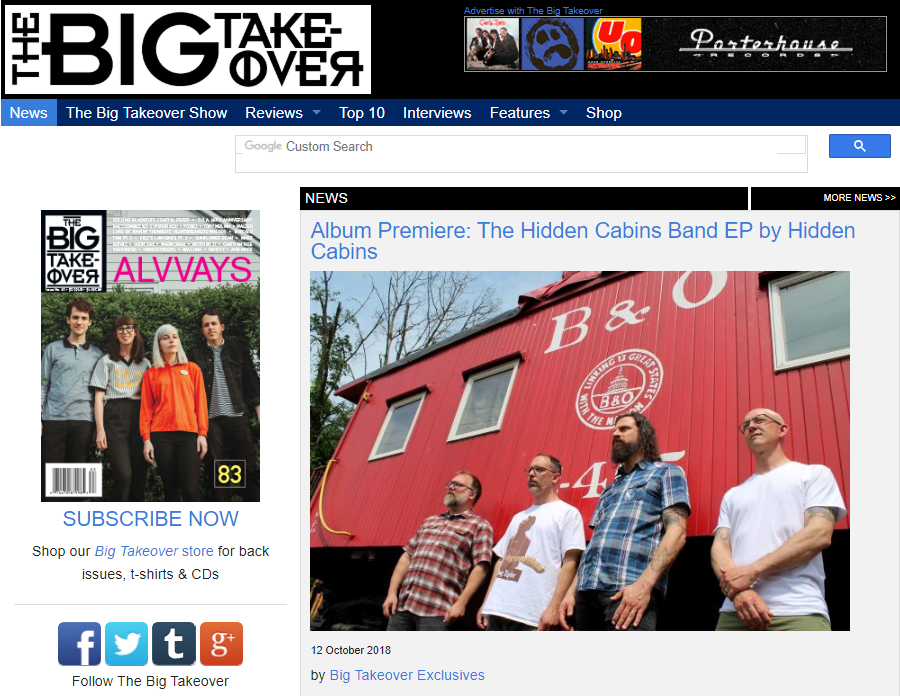 New Jersey/North Carolina rock/folk duo (and now four-piece) Hidden Cabins has made its name on the NY/NJ/PA performance circuit and today they are releasing a new EP, which The Big Takeover premieres here, the straightforwardly titled, heartfelt, and reflective to urgent The Hidden Cabins Band. 
The core two-piece of Craig Cirinelli (vocals, percussion) and Brian Hofgesang (guitars, textures) were joined in the studio by their live show bandmates Rich Perry (drums) of The Skels and Jason DelGuidice (bass guitar), formerly of The Suspects, for the EP's recording. 
Their buzzed about vibrant and energetic gigs have now been captured on record, with their usual effects-laden, split-channel amp tones and resonant combination of rock, folk, and Americana gaining a rhythmic backbone. This desire to get to the essence of their big live sound gives listeners a refreshing take on the outfit. 
Hidden Cabins entered their choice recording spot, Nada Recording Studio in rural New York State once again for this EP. After a few sessions together in 2017 going as smooth as hoped, and with guitar tracks for a single song being added at Landslide Studios (Asheville, NC), the entire EP was then mixed and completed in early 2018 with John Naclerio at the helm. 
The end result is Hidden Cabins' aptly titled The Hidden Cabins Band EP which is released on both Pyrrhic Victory Recordings (US) and Engineer Records (UK).